My Role:
Research & Strategy
Wireframing
User Interface Design
Prototyping
Animation
3D Modelling and Rendering

Tools Used:
Sketch
InVision
Principle
AutodeskFusion 360
Marvel
Platform:
Android
WearOS
Responsive Web
Simplifying plant selection and ownership for urbanites
Grover is a smart, personal plant assistant designed to help busy plant novices preview, choose and maintain houseplants that perfectly suit the conditions of their spaces. Grover is a solution for those who've struggled to keep their plants alive ("plant murderers") and those who are interested in the benefits of houseplants but lack the knowledge, time or resources required to 1) choose plants that will thrive in a desired space and 2) understand the behaviour and needs of their houseplants.
By reading the exact temperature and light conditions of a chosen space over a 24 - 48 hour period, Grover references its inventory of information on over 4000 houseplants and curates a list of the ones that match the space. Grover contains three-dimensional renders designed to allow its users to preview recommended species and see how they will grow over time.
Once the plant is purchased, Grover is placed in its soil, combining its light, temperature, moisture and soil pH with information on the species' needs in order to send friendly, personalized tips and reminders to the user in order to help keep the plant alive.
This was a solo project that I completed over the course of 10 intensive weeks in BrainStation's full time user experience design Diploma program.
The Space
More Houseplants are Being Wasted than Ever Before
In the past three years, U.S. sales of house plants have surged by almost fifty percent. Why? Because many working urbanites understand and desire the benefits of healthy houseplants: from the tranquil routine of plant care, to cleaner air, better mood and concentration, healthy houseplants provide a more fulfilling and atmospheric living space for their owners, thus positively impacting other aspects of their lives.
However, while a great many people purchase plants with a vision of enjoying these benefits, relatively few people successfully maintain their plants - around one third of all houseplants die within a few months of being purchased due to a lack of proper maintenance. This is due, in large part, to an emphasis on aesthetics when purchasing plants coupled with a lack of understanding plant needs, causing maintenance to become a difficult and cumbersome process.
How might we make houseplant ownership a simple and delightful process for urbanites?
Getting Started
What's Going On?
I started by conducting secondary research, reading as many articles as I could find on possible causes of the houseplant epidemic and what solutions already exist. The background context and early insights I found would later help to guide and frame qualitative interviews.
I encountered some surprising plant-owner statistics:
25%
lack knowledge of selection of houseplants
37%
lack knowledge regarding houseplants
27%
lack knowledge about health plant arrangements
21%
lack knowledge about care and maintenance of houseplants
A possible suspect
#plantsofinstagram
Plant ownership is an increasingly millennial phenomenon. Difficult housing markets have placed the millennial generation in smaller living quarters and forced them to find creative ways to make such spaces homely and habitable, and houseplants are a natural candidate.
BUT! millennials are increasingly dependent on social media for this kind of decision, often using aesthetics and external validation as primary decision heuristics.
Houseplants are delicate and complex - much more than simple apartment furnishings. There are thousands of species, each with their own needs in terms of light, water, soil fertility and temperature.
What's out there?
There are several leading plant care applications on the market, each with its own distinct purpose, advantages and disadvantages. I noticed that bluetooth sensors like Xiaomi's Plant Monitor can only help you monitor a plant you already own, rather than helping you choose the right plant for your space. Plant Life Balance helps you preview plants in your home, but relies on your phone's sensors for light conditions. Other applications can send you tips, reminders and advice once you've already got a garden together.
There is no structured way to preview plants that are reliably suited to the conditions of your living space.
Primary Research
Interviewing "Plant Killers"
I recruited 6 working professionals for qualitative, in-person interviews in order to better understand typical motivations, behaviours and pain points associated with plant ownership. All participants were busy, urban plant-owners with experience having a plant die (i.e. self-titled "plant murderers").
I was fascinated to find the qualitative data I collected could be parsed into an array of six themes: Aesthetics, mental state, maintenance / care, plant selection, responsibility and schedule. Despite the simplicity and stillness that plants can occupy in a space, plant-ownership is complex and psychological:
1
A Recurring Priority Structure
In order or descending priority, novice-to-intermediate plant owners choose their plants according to where they will go, how they will look and lastly their compatibility with the conditions of the spot they've chosen.
2
A Nurturing Relationship
People typically visualize a nurturing connection with their plants that is rarely ever realized or sustained long term. They name them and view them as dependents. This is not surprising, given that more and more millennials are purchasing plants rather than dogs, cats or other pets.
3
Poor Understanding
People often feel they do not understand their plants' behaviours and do not know what their plants need or want.
This feeling often comes after a short "honeymoon phase," and flips the plant's presence from calming into a source of anxiety, until it is eventually put in the garbage.
Operationalize the User
Creating a Persona
To consolidate and the insights I found, I developed a primary and secondary persona. Sarah embodies the busy millennial with a keen visual sense and a desire to make her small living space as livable as possible. Adam embodies the young professional keen on adding greenery to his apartment. Inspired by pinterest and #plantsofistagram, Adam chooses his plants on chiefly visual qualities.
These two personas were helpful and tangible references when beginning to brainstorm possible solutions to the houseplant problem, and I was able to return to them later in the process when the design process hit roadblocks and impasses.
Mapping Plant Ownership from Beginning to End
I consolidated Sarah's experiences into their main phases via the visual representation below. Starting with 'the vision', the experience map brings you through Sarah's purchase of her plant, and finally to her challenges in maintaining and caring for it. I highlight problems and pain points along the way, noting her behaviour, thoughts, feeling, touch points and channels.
With this visualization handy, I was able to identify many opportunities for intervention along Sarah's journey.
TL;DR - Opportunities for Intervention
I found many promising opportunities for intervention along Sarah's journey of plant ownership. These three are the best representations of the main possible directions.
1
Give Sarah the freedom to visualize various species of plants in her apartment, ensuring she only sees plants that would thrive in the conditions of the area of her space that she's chosen
2
Provide Sarah's plants with personalities so they can communicate their needs directly to Sarah, and ensure a nurturing relationship persists beyond the first couple of weeks.
3
Provide Sarah with visualizations of her plant's health across different spectrums such as soil health, water content, light and temperature.
User Stories & Task Flow
Using the opportunities for intervention, I came up with many user stories to help begin to structure actual features of the solution.
As a plant shopper I want to
… pick where my plant will go so that I can design my own space
… receive a list of species that will thrive in that spot so that I can narrow my options
… browse these species by theme so that my search is structured
… filter based on personal needs and preferences so that I can get the perfect plant
… see the instagram feed for the plants I like so that I get real, contextual inspiration
As a plant owner I want to
… know which of my plants need care so that I can keep them alive
… visualize my plants' soil, water, light and temperature so that I can keep them alive
… Get personalized reminders from my plants so that I feel I am nurturing them
Designing a Sensor Concept
Since the task flow involved a bluetooth plant monitor that helps you choose your plant, I designed a possible concept for a sensor that could both stand upright while it collects light and temperature data in an area of an apartment, and slide into the soil of the plant that is eventually placed in that spot.
The solution was pretty simple - a little sheet of wood (bamboo) that slides on and off the sensor's legs to help it stand upright.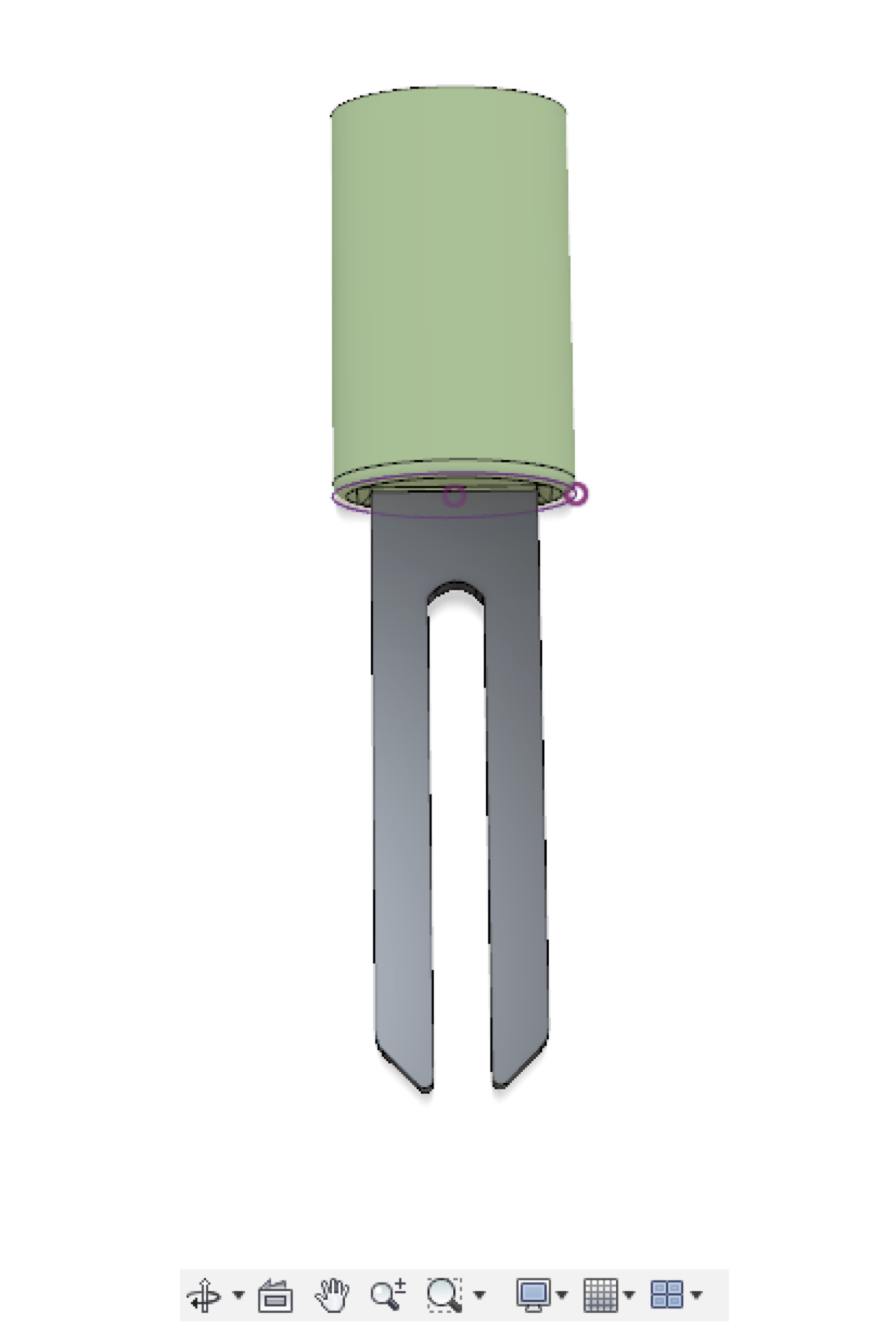 Visual Ideation
I like to start visually ideating by hand and with an open mind.
User Testing & Iteration
I converted the early sketches into digital format and tested the functionality of my prototype through two rounds of user testing. I observed and noted behaviours, reactions and verbal responses to the various features of the flow. At the start, I had invented some patterns that were intuitive for me to use. I quickly realized they weren't universally intuitive, so I re-built them and grounded them in existing design patterns.
Finding a Mood
Terracotta
Since the theme of this project is plant ownership, I naturally used a lot of greenery in my initial mood board. However, there were several compelling reasons to abandon green as the app's primary colour. Browsing through plant care case studies and professional projects, I noticed that the intuitive call to action colours – various hues of green – lose their attentional salience because of the prevalence of green plant leaves that populate their surrounding screens.
Finally, I chose a mood board from which I could extract an accessible colour palette – by 2020, all Canadian digital business with 50 or more employees will have to follow accessible design restrictions.
Hi-Fidelity
Browse a Curated List
Place your grover upright in the area of your space where you'd like a new plant to go. Let it collect light and temperature for a few days. Based on this data, it will curate a list of all the plants that would thrive in that spot and organize it by theme. Add your own filters (e.g. some plants are poisonous if eaten! do you have a dog, cat or child?).

Select a plant you like and learn more about it. Rather than white-background stock images, see the #hashtag of the plant for real, contextual inspiration.
Preview in Your Space
I you find a plant you think you might like, preview it in augmented reality, and see how it will grow over time, and view it with different pot colours.
Monitor
Once you've brought your new plant home, place it in the spot you selected. Remove the grover from its bamboo stand and place its legs in your plant's soil. Grover becomes a monitor and helps you understand and track your plant's behaviour and needs over time.
Wearable
I played around with implementing Grover's notification system into wearableOS. Your plants will message you when they need something using natural language, and you can set reminders for when you get home.